During the remaining time in limited operations, managers, supervisors, and academic leaders should prepare to be able to meet the guidelines below. Note that these are not finalized guidelines but provided now so you can begin to think about how best to comply with New Mexico Department of Health new requirements resulting from COVID-19.
As we move towards fuller operations, everyone should:
Follow the COVID-Safe Practices (see Expectations for the Campus Community).
Continue to conduct work remotely to the greatest extent possible: telecommuting should remain the default for the majority of UNM-LA faculty, staff and students.
Take responsibility for disinfecting personal work spaces and collaborate with supervisor plans to create a safe shared workspace (see Housekeeping).
Supervisors should:
Arrange workplaces to provide for a minimum of six feet of distance between individuals.
Design office schedules to accommodate remote work and to support social distancing in the office space.
Close common areas where personnel are likely to congregate or modify them to minimize contact.
Provide for meetings to take place remotely whenever possible, even for participants who may be in the same building.
Coordinate routine and regular disinfection of common contact sites (keyboards, monitors and touch screens, door handles, multi-user equipment, etc.)
Share training to encourage the use of tools that will reduce viral spread, including software tools for telecommuting and virtual meetings, new office housekeeping processes, and new ways of conducting business that minimize contact.
Develop a gradual approach to bringing people back to campus while remaining flexible to all the various situations they are currently encountering (i.e., health issues, childcare, etc.).
Communicate plans and protocols regularly and clearly.
We are developing a method of daily screening for faculty, staff, and students to verify their health and travel status before coming to campus. Prior to implementation of a formalized system, all individuals coming to campus should self-screen.
Free testing is available though the Los Alamos Department of Hea(1183 Diamond Drive, Unit , in front of UNM-LA) for anyone experiencing symptoms, those who have been in close contact with individuals who have COVID-19, or essential workers. Call 505-662-4038 to make an appointment on Mondays or Wednesdays.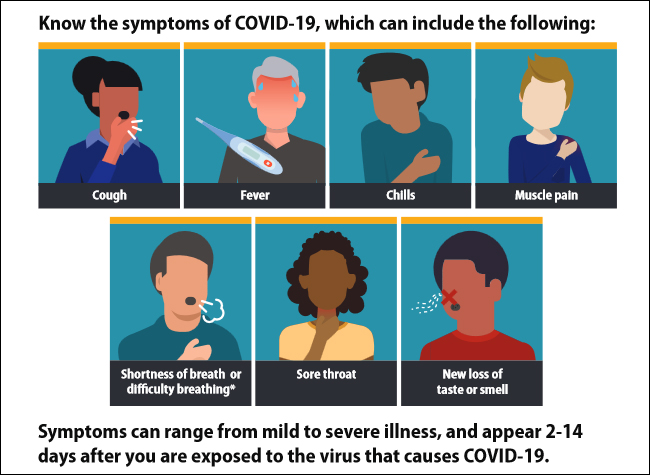 Fever
Cough
Shortness of breath
Sore throat
Headache
Muscle Pain
Chills
Repeated shaking with chills
Loss of taste or smell