Expectations for the Campus Community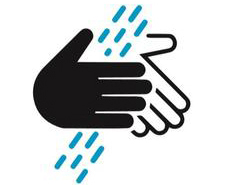 In order to operate on campus more fully, we will have to create a culture of mutual protection – protection of our students, of our staff, of our faculty, and of our community. The goal of our actions —individual and collective— is to reduce and minimize transmission of the COVID-19 virus so that isolated cases do not become wide-spread infections.
The core elements of this culture will be:
Hygiene – frequent, regular hand-washing; frequent cleaning of spaces
Distancing – minimizing, but not eliminating, physical proximity; limiting group sizes; creating physical barriers
Screening – staying home while sick; actively screening every day if it's ok to come to work or class
Masks – all individuals on campus wearing masks all the time in public, at meetings, at in-person classes
Culture – making these behaviors and actions normal social expectations so "I keep you safe, and you keep me safe"




Covid Safe Practices     Mask Guidelines    Symptoms of COVID-19     Self-Reporting




COVID-Safe Practices (CSPs)

Stay home when experiencing COVID-19 symptoms (cough, fever, shortness of breath) or if you have been exposed to the virus. Follow UNM's self-reporting requirements.
Promote and maintain a safe social distance in all work/common areas.
Wear a cloth face covering or mask when in common and shared areas.
Wash hands regularly and cover coughs or sneezes with tissue or your arm. Use hand sanitizer when hand washing is not possible, but hand washing with soap and water is most effective.
Take ownership of your work spaces and clean personal and shared surfaces regularly with effective cleaning supplies.
Reduce the proximity or density of employees who are required to come to campus, especially in open/crowded work areas; all employees who can do their job effectively through telecommuting should continue to do so.
Work with your supervisor to telecommute if possible, or review available leave if you are unable to telecommute.




Review the CDC Guidelines


These protocols will be new to all campus community members. Recognizing that building a culture of mutual protection represents a challenge in this stressful environment, UNM-LA encourages any students, staff or faculty to seek assistance through the resources listed on our website at losalamos.unm.edu/students/crisis-resources. UNM-LA students are also welcome to resources through main campus at mentalhealth.unm.edu. A culture of health supports students, staff, and faculty in seeking care and well-being.




COVID-19 Self-Reporting Requirements

UNM has implemented a policy for self-reporting either symptoms of or a positive test for COVID-19 in order to support efforts to slow the spread of infection. This is both to connect individuals on all campuses to resources that can support them, and to help the University assess the community impact of the virus.

This policy is specific to those individuals who are either currently working or residing on UNM main or branch campuses, or who have been physically on those campuses since April 3.