Registration Open UNM-LA Summer/Fall Classes
April 8, 2020 - UNM-LA News Release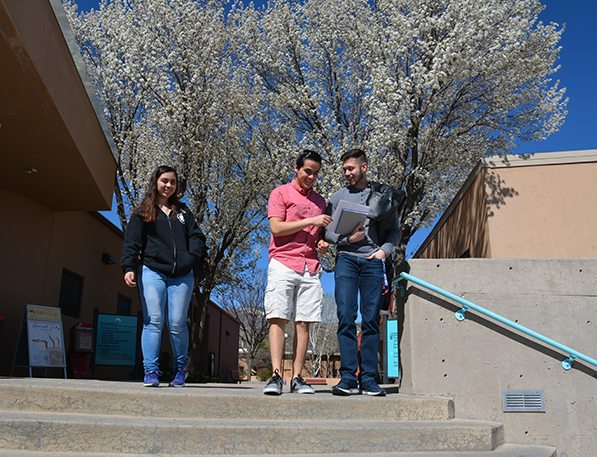 The University of New Mexico – Los Alamos (UNM-LA) is encouraging early registration for the summer and fall semesters. Class registration opens on April 13; class schedules are available online at losalamos.unm.edu/
academics/class-schedule.html.
Due to the current CDC guidelines, and based on guidance from UNM, the current schedule of classes for the summer are online courses. Additional face-to-face (in-person, on campus) classes may be added as conditions change and the campus is reopened.
Registration is also available for fall semester classes.  UNM-LA plans to offer both online and face-to-face classes in the fall.
Although the campus is currently closed, the university operations are ongoing. This includes instruction as well as registration and advising.  To ease concerns and questions about the upcoming fall term, and to protect the safety of our community, registration is available online. Please contact a member of the Student Services team with any questions regarding admission or free registration. Remote contact information for services and support can be found at losalamos.unm.edu/.
UNM-LA offers a wide variety of classes with affordable tuition. The campus offers Associates Degrees and Certificates in a number of areas including Pre-Engineering, Business, Emergency Medical Services, Certified Nurse Assistant, Robotics and Welding. In addition, students can begin to work on a Bachelor's of Science in Mechanical Engineering from the University of New Mexico at the UNM-LA campus.
Apply online at losalamos.unm.edu/admissions/apply-now.html.
UNM-Los Alamos is an innovative, rigorous, and affordable comprehensive branch community college that provides foundations for transfer, leading-edge career programs, and lifelong learning opportunities. More information about UNM-LA is available at losalamos.unm.edu.
####
Photograph by Nancy Coombs, UNM-LA