Additional Details
Cloth Masks or Face Coverings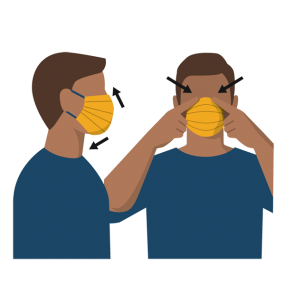 To prevent spread of COVID-19, the State of New Mexico has mandated cloth face coverings for everyone while in public. Wear a cloth face mask during any direct communication with others or when in common/shared spaces, whether indoor or outdoor.
A cloth face mask will be mandatory when in campus common areas including, but not limited to, stairwells, hallways, breakrooms, copy rooms, elevators, conference rooms and restrooms or anytime you are in a public or common area.
The Center for Disease Control (CDC) has information about proper use of cloth coverings, including washing instructions, and directions for making a face covering.

A face mask will not be required when alone in your office. However, if you are in a setting with walls or barriers that are less than five feet tall and you are within six feet of another person, you must wear a cloth face mask.
A shared space is considered to be a work area that meets the following criteria:
Has two or more persons that utilize a workstation in the same office or workspace, and/or
Is a reception area or front desk that does not have an existing barrier between staff members and visitors, and
Is not separated by walls or partitions taller than five feet.
Social Distancing
Avoid meeting with people face-to-face. Communicate electronically, even when communicating with people in the same office or building. All meetings should take place via Zoom, Microsoft Teams, or other video conferencing software. Be sure you understand the privacy considerations when sharing information electronically at your meetings. UNM provides Zoom recommendations.

Do not linger in hallways, stairwells, or areas where personnel are likely to congregate such as breakrooms, copier rooms, or other shared areas. Avoid sharing elevators, but when necessary, limit persons in the elevator to two to three individuals and stand six feet apart. Adhere to social distancing when waiting for the elevator.
COVID-19 Positive Students and Employees* in Campus Space
If a supervisor becomes aware that a student or employee who has occupied a UNM space has tested positive for COVID-19, please recognize that individual's right to privacy regarding healthcare issues, but also recognize the concerns of other occupants.
Supervisor responsibility for students or employees who disclose they have tested positive:
Send the individual home or instruct them not to come to work.
Instruct the individual to log into UNM's self-reporting system at (lobowebapp.unm.edu/apex_ods/f?p=135).
Request permission from the student or employee to disclose to other employees the positive test results.
Let co-workers who were in the immediate area know of the positive results and send them home and to log into UNM's self-reporting system. If the employee has not granted permission then avoid using the employee name when speaking with co-workers.
Co-workers should follow guidance related to testing and self-quarantining.
Supervisor should contact Facilities Management for assistance in immediately closing off areas of potential exposure.
Supervisor should contact HR at clientsv@unm.edu regarding leave options available to employees that were exposed or possibly exposed to COVID-19.
*Similar process should be followed when a visitor or other member of the UNM community discloses positive COVID-19 test results.
COVID-19 Self-Reporting Requirement
UNM has implemented a policy for self-reporting either symptoms of or a positive test for COVID-19 in order to support efforts to slow the spread of infection. This is both to connect those individuals to resources that can support
This policy is specific to those individuals who are either currently working on UNM main or branch campuses, or who have been physically on those campuses since April 3.