Dr. Irina Alvestad Earns Quality Matters Certificate
June 6, 2019 - Nancy Coombs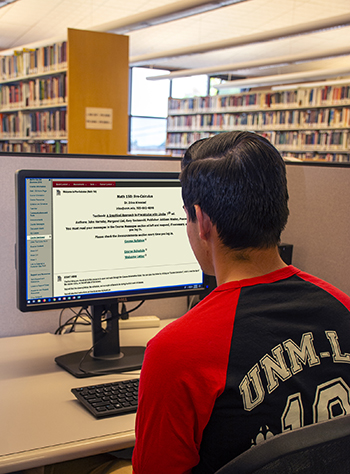 University of New Mexico-Los Alamos (UNM-LA) faculty member Dr. Irina Alvestad received the "Teaching Online Certificate" from Quality Matters (QM), an international non-profit organization that provides tools and professional development for quality assurance in online learning.
 Dr. Alvestad, who is Division Chair for Math, Engineering, and Science and an Associate Professor of Mathematics, began developing online courses in Summer 2016. "In face-to-face classes, I see the students regularly, and it is easy to share my excitement about the subject matter," said Alvestad. "Trying to find a way to project my personality and enthusiasm in an online course provided a unique challenge."
In order to develop her skills as an online educator, Alvestad participated in the QM program which consisted of seven web-based courses: five were two-week courses and two were one-week courses.
The program covered topics such as how to design the content in a logical manner for the online environment, the most effective ways to provide information for students, how to engage learners, and how to integrate activities, technology tools and projects to keep learners engaged.
"For the best learning experience, students have to engage in discussions with other students and faculty to feel they are part of a group," Alvestad explained. "Providing videos, a blog and discussion boards with the online content can draw students in to more active participation and learning.
"It is essential to organize the material clearly, and to repeat course expectations often. Although the grading criterion is outlined in the course syllabus, it is important to remind students of that criterion when each assignment is posted."
Many institutions of higher education are increasing their online course offerings each year. A study by the Babson Survey Research Group in Oakland, CA, "Tracking Distance Education in the United States" (www.onlinelearningsurvey.com), reported that distance (online) student enrollments increased for the fourteenth straight year in 2016, with 31.6 percent of all students taking at least one distance education course. Dr. Alvestad teaches about one-third of her classes online.
"Today, more students have multiple commitments, and they navigate to the flexibility of online courses," Alvestad said. "Students take UNM-LA classes from all over the world. I have had students in Vienna and in the Philippines, and students who are deployed with the military."
UNM-LA is an Institutional Member of QM, and faculty members who teach online are encouraged to take QM classes. Alvestad found the QM program very valuable. "I had the opportunity to interact with and learn from other course participants who were also online instructors. The exchange of ideas was invigorating. We learned how to develop a course rather than just facilitate an already designed course. I would recommend Quality Matters to anyone who wants to become a successful online educator." Alvestad concluded, "I want students to learn and I want to provide a good class experience."