Dr. Cathy Hardy and Mike Katko to Read their Poetry
November 2, 2018 - Nancy Coombs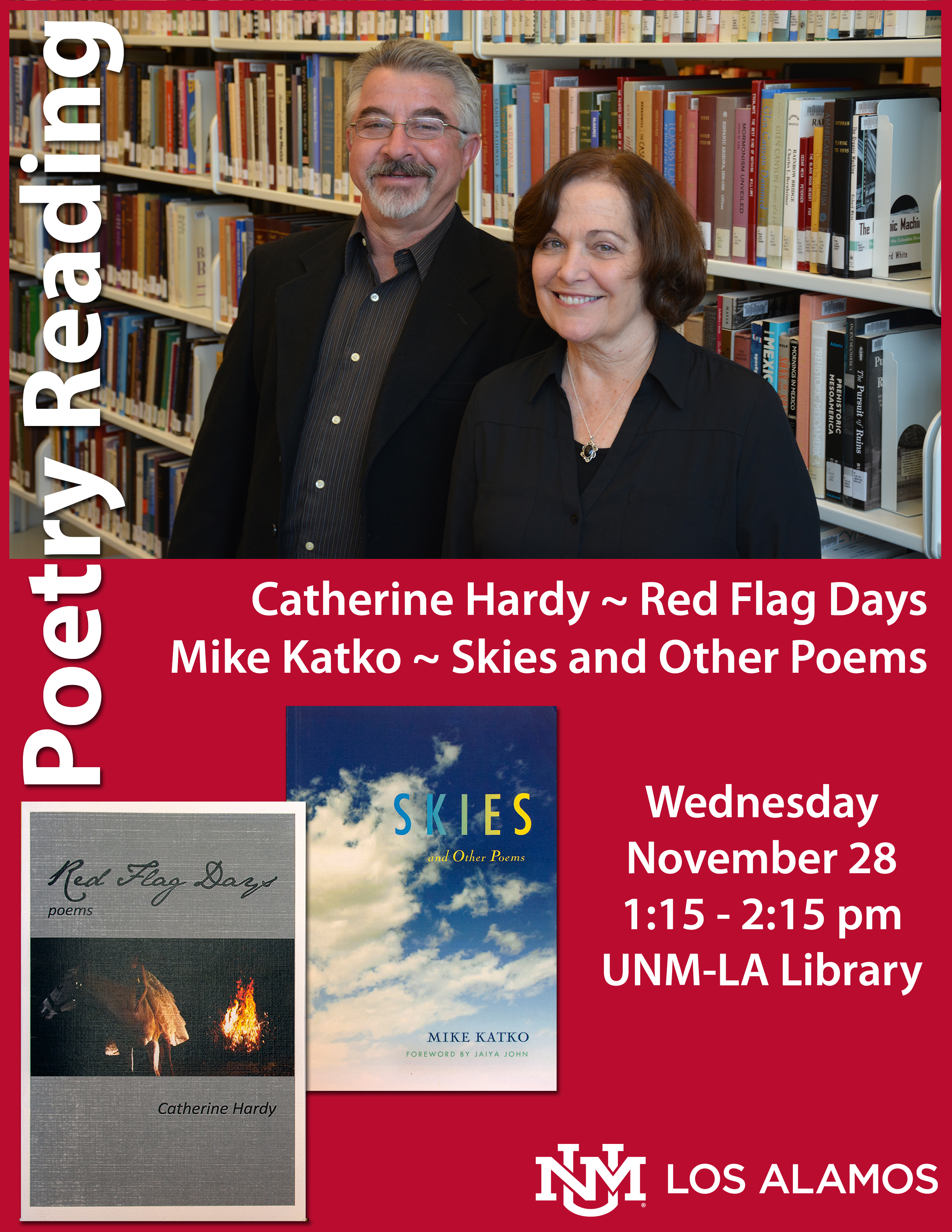 UNM – Los Alamos (UNM-LA) Instructor Dr. Catherine Hardy and Community Education Program Coordinator Mike Katko will present a poetry reading from 1:15 – 2:15 p.m., Wednesday, November 28 in the UNM-LA Library. The public is invited to attend.
Hardy will read poems from her book, "Red Flag Days," and Katko will read from his book, "Skies and Other Poems."
Hardy developed her interest in poetry in a Creative Writing Class as an undergraduate at the University of Akron, and further developed her talent in an MFA program in Creative Writing. With a Doctorate degree in English, Hardy has an extensive background teaching writing, literature, and film studies. She has been awarded grants for the National Endowment for the Humanities and the Greater Columbus Arts Council. Her poetry has appeared in numerous anthologies and magazines and her poetry chapbook, "Red Flag Days", was published in 2014 by Finishing Line Press. She says, "My greatest desire as an artist is to remain open to many creative options."
Katko has a Master's degree in Educational Administration. He has worked in education at all levels, from teacher and principal in public education to adjunct professor at the university level. After retiring from the public schools, with more time to focus on writing, Katko is working on two more works of fiction.
Katko became intrigued with the idea of fashioning words into poetry through an encounter he had as a boy. He recounts, "I discovered the musicality of words through an old crusty cowboy in Wyoming. We were watching a parade, and when I said, 'That's a real cowboy!' the old man answered, 'That guy…He's all hat and no cattle.' That spawned my interest in the written word."
Katko likes quoting Poet Laureate Billy Collins on the importance of poetry. "Poetry is the only history we have of human emotions. Most history books, what we call history books, are stories of battles and treaties, negotiations and beheadings and coronations. But poetry is the only reminder of this very essential part of being human, which is one's emotional life and all the dimensions it entails."