UNM-LA's Night with Wallace is Golden
August 28, 2018 - Bennett Horne/Monitor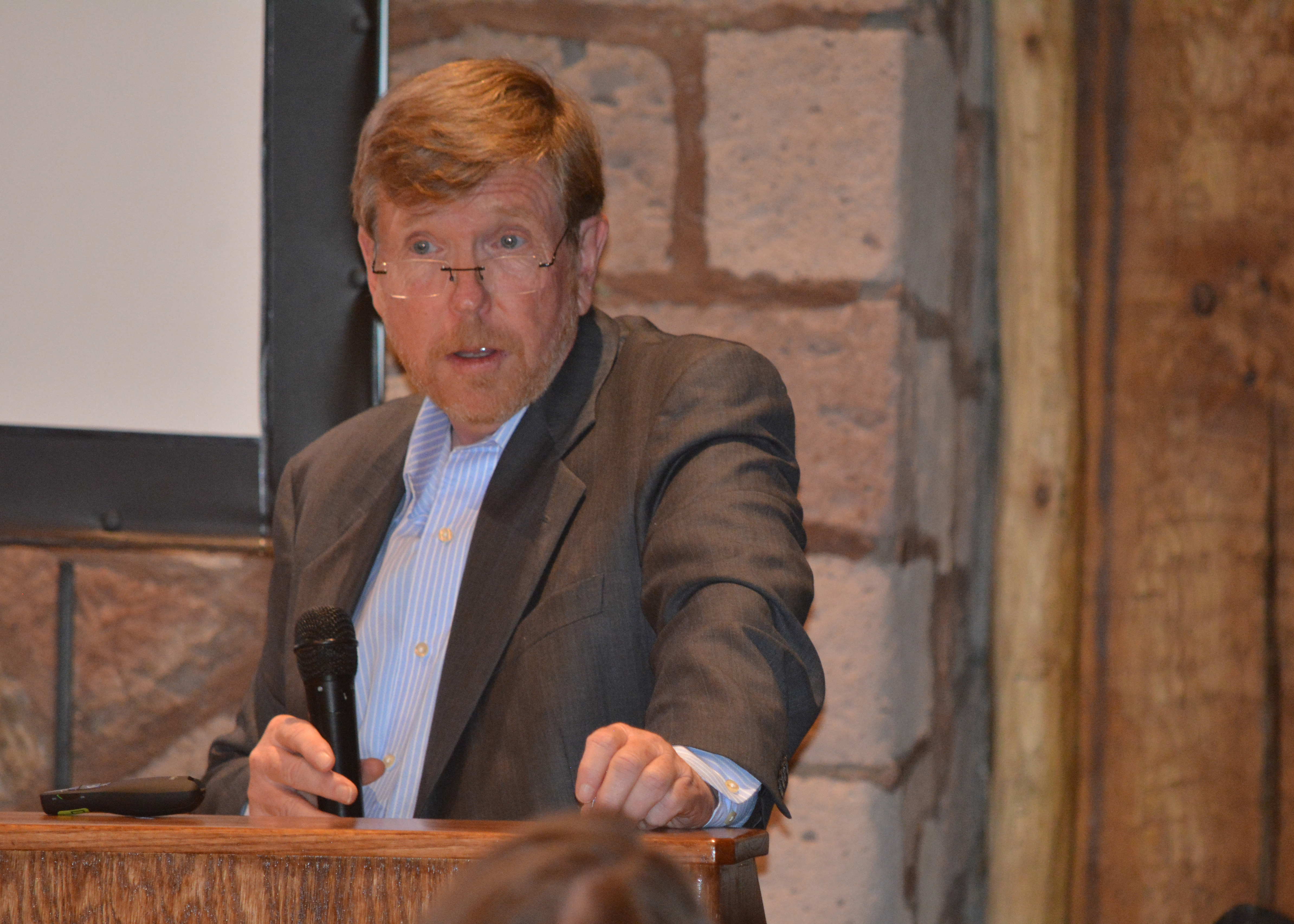 Los Alamos Nuclear Laboratory Director Terry Wallace was the featured speaker at a fundraiser for the University of New Mexico-Los Alamos and the night was pure gold.

Los Alamos National Laboratory Director Terry Wallace holds up a gold crystal from Venezuela before beginning his presentation on the story of gold as part of a fundraising event for the University of New Mexico-Los Alamos Aug. 15 at Fuller Lodge.
Wallace, who is considered one of the world's experts on silver minerals, with even a newly-discovered silver mineral named in his honor – terrywallaceite – presented the story of gold to a large audience at Fuller Lodge on Aug. 15.
"It's a real pleasure to be able to give a lecture sometimes when you can actually weave a story that's not well known," he said. "I get the chance to do that tonight and I'm excited to tell the story about gold."
Wallace began his presentation by holding up a gold crystal from Venezuela that is a part of his personal collection.
"It's really a story of natural beauty," he said. "It starts with the very beginning of the universe and culminates with a very human story, the human story of labor and lust. No other metal evokes more emotion than gold.
"It has a warm glow, it captures the eye, and whether it's a nugget or a crystal, inevitably someone looks at it and says, 'That's really kind of beautiful,'" he said. "And we also automatically assign some value to it. But for this gold to end up here is an incredible cosmic journey."
Wallace then took the audience through that journey, from the origin produced by the collision of two proton stars, a collision roughly a million years in the making, to its discovery in such places as the hills of northern New Mexico.
"The first gold that was discovered in New Mexico of any kind was in 1829 in the Ortiz Mountains," he said. "Two ranchers discovered the gold here and worked the deposit for a few years."
The ranchers soon found the mother lode, drew up a map of the deposit (which was actually the first map recorded in the United States) and soon came the first gold rush in the United States.
The rush even attracted a brilliant engineer to come build a mill to facilitate the gold excavation process.
"Thomas Edison built the mill for the Ortiz Mine in 1898," said Wallace. "He built it out of his own pocket for the profits they would get. Unfortunately they never got any profits so he went back to light bulbs."
After his presentation Wallace was asked about his interest in minerals and the obvious enjoyment he gets out of giving such lectures.
"So often, as a society, we become numb to the extraordinary, so we don't ask the question, 'Why?' And that's in nature and everything," he said. "There's a much bigger story and that story actually is spectacular. When people ask that 'why' inevitably they become excited. And that's what I really enjoy in terms of doing this."
Wallace, a 1974 graduate of Los Alamos High School, is a scientific authority in geophysics and forensic seismology (study of earthquakes and seismic waves as they relate to nuclear weapons testing). He has evaluated more than 1,700 U.S. and foreign nuclear tests, has met every president since Ronald Reagan and even publishes a blog explaining the nexus of science, running and travel.
"We were absolutely delighted and so very grateful for Terry Wallace to come and be willing to be the headliner on this fundraising activity and to donate his time," said UNM-LA CEO Cindy Rooney. "He was such an impressive speaker and I think everybody in the audience walked away learning some more about gold. He was very informative and added some humor that the audience enjoyed. Several people told me they were not disappointed by this event."
Wallace said he was happy he could help UNM-LA and its fundraising efforts.
"It's our hometown institution and it's designed to really serve our hometown community," he said. "I'm very proud of what they're trying to do and I'm very happy that I can support that."
The night ended with a live auction highlighted by two plane rides with Wallace in which those with the highest bids – which ended up being $1,500 each – would get to fly over the many geological formations of the area with Wallace describing the features.
Other auction items included game day experiences with UNM's football and basketball teams and "firefighter for a day" experiences with the Los Alamos Fire Department.
"It was an excellent turnout," said Rooney. "We had several people comment that they really appreciated this kind of event and so we felt like it was a very successful fundraising event."
www.lamonitor.com/content/unm-la%E2%80%99s-night-wallace-golden