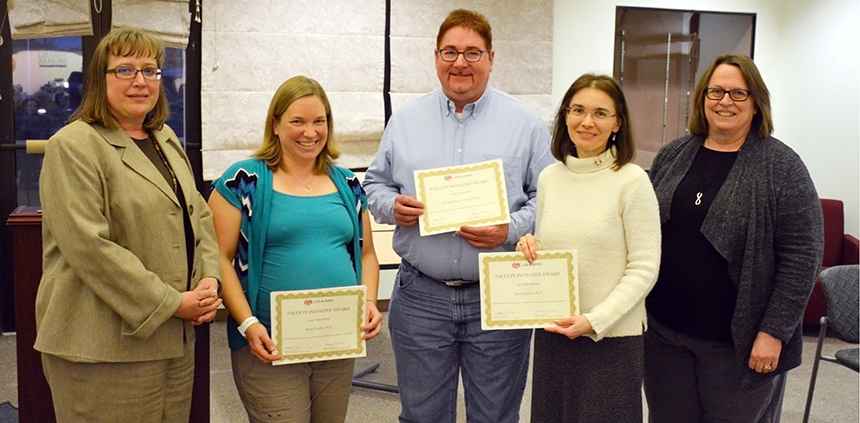 UNM-LA Honors Three Faculty Initiative Awardees
January 20, 2018 - Nancy Coombs
At the UNM-LA Faculty Spring Semester meeting Wednesday, Jan. 9, Dennis Davies-Wilson, Dr. Irina Alvestad and Dr. Kristy Nadler were recognized as the most recent recipients of the UNM-LA Faculty Initiative Award.
The Faculty Initiative Award was established in 2005, when a retired UNM-LA instructor started an endowment to encourage creativity and initiative within the faculty by funding an approved activity that benefits the applicant, UNM-LA, and/or its students. Applicants must provide a "project narrative" that illustrates their originality, creativity, and initiative, with background history, and a comprehensive description of the activity, the final product and its benefits. The award recipient can choose between a three-credit hour course load reduction or $3,500 to fund their project.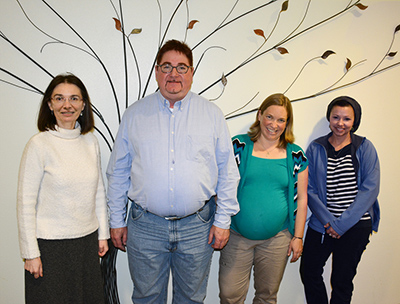 Last spring, the committee selected Dr. Zandree Stidham as the recipient, who was recognized at the UNM-LA graduation last May. Later, the decision was made to provide awards to three additional faculty members: Davies-Wilson, Alvestad and Nadler.
Stidham's proposal, "The Passion Project Initiative," is a plan to redesign first year English Composition into a project-based course. This past fall, she implemented the first stage of her project, in which the entire semester centered on one project. Each student designed a project with a written portion and a deliverable product, beginning with a research proposal, then including documentation and finally a written piece. Each student also recruited a mentor to provide advice during the process, and presented their project to the class. In coming semesters, Stidham plans to develop the mentorship process, and work towards a more formal presentation to an audience of classmates, mentors, family and friends.
UNM-LA Librarian Davies-Wilson's proposal, "Captivating Students with Adobe Captivate", builds on an earlier award he received in 2009 to implement Information Literacy training into UNM-LA courses. Information literacy is now required for the introductory level English courses, but the current courseware is outdated. Davies-Wilson plans to create a new series of engaging and interactive videos, including testing checkpoints, designed to meet the needs and interests of today's college students. The award will support training for Davies-Wilson, new software and peripheral equipment such as a webcam and a microphone.
Alvestad, an Associate Professor of Mathematics, designed an initiative to accelerate the completion of math pre-requisites in order to increase the matriculation of students in STEM programs, "Increasing the Impact of Mathematics Education at UNM-LA." A new course combining Precalculus and Trigonometry will provide an expedited pathway to Calculus. Alvestad plans to develop a broad system of curriculum materials and an online master course site in UNM Learn (a course management system), including a comprehensive network of curriculum materials, customized homework assignments and additional handouts to complement the textbook.
Nadler, Adjunct Faculty of Psychology and of University Studies, proposes to enlist "Motivational Learning for Student Success." After attending training in Motivational Interviewing (MI), she will use this technique of reflective listening, in which the interviewer helps the clients uncover the discrepancy between their goals and their behavior, to help students in her classes better understand themselves as learners, and move past their learning blocks.
CEO Dr. Cindy Rooney said, "We are very pleased that these individuals have been selected for the Faculty Initiative Award. Each one is committed to continuous personal improvement and to the success of our students. They are a reflection of the excellent faculty that we have on campus."
UNM-Los Alamos is an innovative, rigorous, and affordable comprehensive branch community college that provides foundations for transfer, leading-edge career programs and lifelong learning opportunities.