LANL Holds Legislative Update on UNM-LA Campus
September 22, 2017 - Carol Clark
By CAROL A. CLARK
Los Alamos Daily Post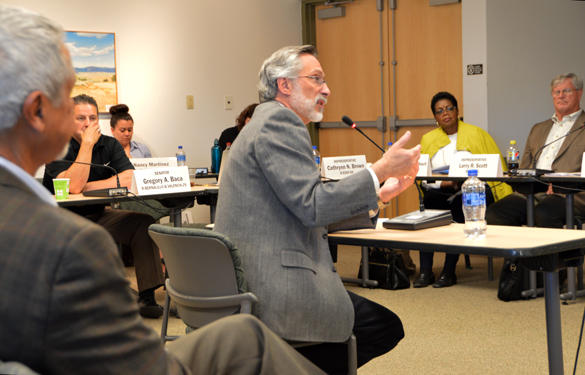 Los Alamos National Laboratory Director Charlie McMillan shared his insights into the current and future status of the Lab during this year's fourth Radioactive and Hazardous Materials Committee meeting Thursday at UNM-LA.
Legislators from across the state comprise the Committee including Sen. Richard Martinez, Sen. Carlos Cisneros and Rep. Stephanie Garcia Richard who represent Los Alamos.
McMillan was upbeat in his overview of the Laboratory.
"Next year we will celebrate the 75th anniversary of the Laboratory and 75 years from now our successors will be here at this meeting talking about this Lab," he said.
McMillan responded to questions from legislators on a variety of subjects from the nuclear program in North Korea to issues in Iran and China holding the most powerful computer at the moment, although he was limited in what he could say due to the classified nature of these topics.
He mentioned the situation with his generation retiring from LANL, including himself at the end of this year. The Lab is hiring the next generation of employees and with the security clearance process taking longer than a year, there are 1,300 new employees all waiting for their security clearances, he said.
"If my generation retires before these folks get clearance ... that's a problem," McMillan said.
Also of note, McMillan mentioned that he received a letter last week from the FAA saying it had closed its investigation into the small quantities of special nuclear material inappropriately shipped by commercial airline rather than over the road. He said the FAA states the Lab will not be fined for the incident.
Rep. Stephanie Garcia Richard of Los Alamos chaired the afternoon meeting. Speakers included Director Kathy Keith of LANL's Community Partnership Office presents a talk to legislators Thursday at UNM-LA about the Laboratory's community involvement and investment in New Mexico, and Regional Coalition of LANL Communities Executive Director Andrea Romero who spoke to legislators during the meeting about community her organization's concerns regarding the new management contract for the Lab.
Speakers at Thursday's meeting also included Manager Doug Hintze of the Environmental Management - Los Alamos Field Office, LANL Fellow Dr. Albert Migliori, RCLC Executive Director Andrea Romero, NNMCAB Chair Gerard Martinez y Valencia and Scott Kovac of Nuclear Watch New Mexico. Los Alamos County Manager Harry Burgess and County Councilors Chris Chandler and Pete Sheehey attended the meeting. 
View this article in the Los Alamos daily Post to see more pictures: www.ladailypost.com/content/lanl-director-shares-insights-radioactive-and-hazardous-materials-committee-meeting-unm-la