UNM-LA Holds 36th Annual Graduation Convocation
May 15, 2017 - Nancy Coombs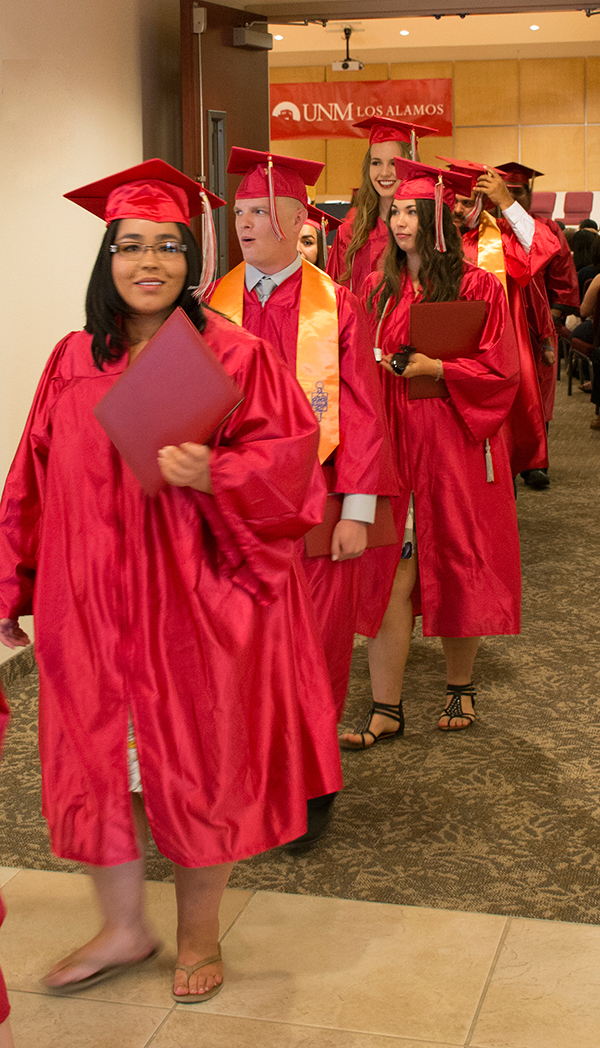 Los Alamos - UNM-Los Alamos celebrated its 36th annual Graduation Convocation on May 12, 2017 at the Crossroads Bible Church in Los Alamos, granting awards to some of the 97 students who collectively earned 116 degrees. There was a capacity crowd of more than 450 friends and family members celebrating with the 67 students who participated in the commencement.
UNM-LA CEO Dr. Cindy Rooney led the convocation, celebrating the achievements of students and faculty. This year, Rooney led the procession of faculty and graduates into the auditorium carrying the UNM-LA mace. A mace, a traditional symbol of university scholarship and integrity, is used by higher education institutions for special ceremonial occasions to signify the importance of the event and the conformation of the academic process. The UNM-LA mace, new this year, was designed and built by Advisory Board member Pat Soran, with a UNM-LA symbol produced by Skip Canfield, a UNM-LA instructor.
Convocation Speaker Dr. Zandree Stidham, Assistant Professor of Communications and the Writing Program Coordinator at UNM-LA, was greeted by a standing ovation from the graduating students. Dr. Zee, as she is commonly known, stated, "This degree will not make you any more valuable than you are at this very moment…You're valuable just because you are…Degrees give you opportunities and will open doors to your future." She encouraged the graduates to follow their passion and find their purpose. After the speech, Dr. Rooney explained to the audience that the graduating students had decided to wear special wrist bands at the ceremony to show their respect and support for Dr. Stidham.
Dr. Thomas Beach, president of the Faculty Assembly, announced the winner of the Bobbye Straight Faculty Initiative Endowment, which provides $3,500 to a UNM-LA faculty member to be used to complete an academic project or goal. Dr. Stidham received the award for her "Passion Project Initiative." Dr. Rooney noted that this is the first time the award recipient has also been the convocation speaker.
Kaylen Pocaterra, Associate of Arts in Pre-Business Administration, spoke on behalf of those receiving associate degrees, about the importance of "embracing our personal values and staying true to who we are." She shared that she loves that UNM-LA provides students with many opportunities to explore and satisfy their curiosity as they learn about what is important to them.
Speaking on behalf of students earning their high school equivalency credentials, Mr. Zachary Braatz gave a moving testimonial about choosing to change for the better. As a three-year resident of the Delancey Street Foundation, Braatz has committed to the process of changing his life and has become a role model for others in the community.
In closing the ceremony, Dr. Rooney stated, "Graduates, tonight's ceremony is a time to celebrate your accomplishment, your milestone," Dr. Rooney said. "Enjoy the occasion, accept the congratulations. But at some point, maybe tonight, maybe tomorrow, please take a moment and reflect on your family members, your friends, your professors, and others who have helped you achieve this milestone. Please, share with them your gratitude for the role they have played in your life. I encourage you to express your gratitude."