UNM Acting President Dr. Abdallah visits UNM-LA
January 20, 2017 - Nancy Coombs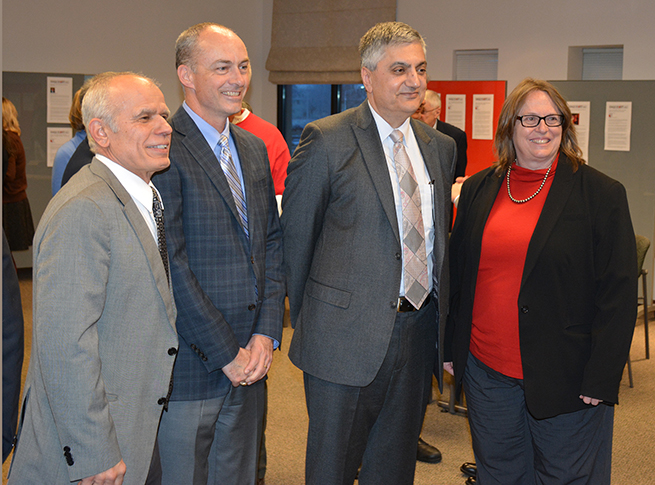 LOS ALAMOS, NM - UNM Acting President Dr. Chaouki Abdallah visited UNM-Los Alamos on Monday, Jan. 9, first attending a reception with approximately 50 community members, then speaking before an even larger crowd. Dr. Abdallah was accompanied by Dr. Craig White, who is currently serving as Acting Provost (a temporary move from his role as Dean of Anderson School of Management), Dr. Christos Christodoulou, who was recently announced as the new Dean of Engineering effective July 1, 2017, and Dr. Jerry Dominguez, Vice Provost and Branch Campus Liaison.
In his remarks, Dr. Abdallah addressed the role of branch campuses and the importance of local support.
Dr. Abdallah explained that branch campuses were established to offer 100 and 200 level courses. In the past UNM-LA has been able to provide upper level courses, going back to the 1980s when some instructors were flown up from Albuquerque. Since then various technologies, such as ITV and online classes have been used to provide instruction from a distance, with areduced number of face-to-face classes. Abdullah sees a great opportunity to rekindle or develop some four-year programs in Los Alamos, specifically because of our relationship with Los Alamos National Laboratory. Based on a survey done by graduate students at the Anderson School of Management, the strongest interest lies in the areas of Engineering and Business.
Discussing funding for UNM-LA, Dr. Abdallah related that support from the state has decreased to 30% of total operating costs. He underlined that branch campuses are financially independent from UNM in Albuquerque, relying on separate state appropriations, local support, grants, and tuition.
Further, Dr. Abdallah complimented Dr. Rooney and the work that has been going on at UNM-LA, and the growth seen in both programs and student population. UNM-LA has been very responsive to the needs of the community, and has the highest graduation rate of all branch campuses in the state. However, he believes that the campus has not expanded to its full potential.
State Representative Stephanie Garcia Richard addressed the audience after Acting President Abdallah. She reminded the audience that the state budget relies on oil and gas, and revenues are down. She suggested that the impact of this has fallen somewhat disproportionately on higher education.
Richard related that the agile nature of an institution like UNM-LA is a great asset to a community. UNM-LA was able to develop and launch the Fire Science program in a relatively quick timeframe, whereas to create and implement a degree on main campus would take much longer. In conclusion, Richard stated, "UNM-LA can't rise to their full potential without further support. They can't be the stellar institution that really they could be without further support from the community."
When the audience was invited to ask questions and comment, a number expressed positive experiences they have had with the college. Los Alamos resident Bob Robey spoke in support of UNM-LA, relating that each of his two children had benefitted greatly from dual credit courses at UNM-LA. He noted that with AP credit and UNM-LA credit, they each were able to enter college with a year (or more) of credit completed. He smiled as he noted the financial savings of approximately $30,000 per academic year.
Joe Ladish, a retired LANL physicist and former UNM-LA instructor, shared several stories about students he had taught who took classes to further their education in order to succeed in Los Alamos. These included a former administrative assistant who took computer classes at UNM-LA and moved into a job in the computer field at LANL. He emphasized that, "It's not true that UNM-LA educates students who do not contribute to our local area. Many take classes to further their career, and students often stay or return to Los Alamos after they get a higher degree."
UNM-LA Chief Executive Officer Dr. Cindy Rooney emphasized the importance of collaborations and acknowledged the important partnerships that UNM-Los Alamos is working on with various groups including UNM-Albuquerque, Los Alamos National Laboratory, Los Alamos Consortium, and Los Alamos Public Schools. She concluded the evening by thanking everyone for their attendance.