UNM-LA builds real life public safety section
June 6, 2016 - Tris DeRoma
When it comes to saving a life, a little bit of reality never hurts. That's the idea behind the  recent redesign of a certain section of classrooms that house the Emergency Medical Services program at the University of New Mexico, Los Alamos.
The section is now known as the Public Safety section, and will be where most of the school's EMS, fire and law enforcement classes are taught.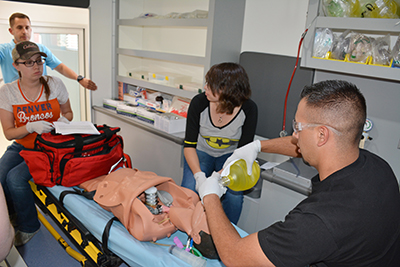 However, some of those classrooms no longer look like a typical classroom. Some of the classrooms look like the inside of an emergency room, a bathroom, a living room or the inside of a restaurant or a coffee house.
The school now has a room that is in the exact dimensions of an ambulance, outside and inside. Each of the special rooms will be stocked with the tools, medicines and equipment they would typically contain, right down to the stethoscopes, gurneys and monitors seen in a "real" emergency room or ambulance.
LAFD Division Chief of Training Joseph Candelaria, the program manager who oversees and helps teach the Emergency Medical Services program at UNM-LA, said there's a reason for all the new attention to detail. Though the two-year degree program has been turning out qualified graduates since 2013, the school thought it was time the school made the EMS portion more immersive.
"Here, they get a scenario-based education. We build realism into the classroom. When they graduate from here, we want our students to go out and take care of our loved ones," Candelaria said. "That's what I tell them the first day they get here. I tell them 'I'm not going to turn you over to the community unless I feel comfortable enough that you will be able to care for my mother, or my kids."
Part of his mission is to try and get his students to fail.
"I stress them, and I preach to them that I want them to fail here," Candelaria said. "I want them to make their mistakes here, because here, (making mistakes on practice dummies) is not going to have a real impact on our community. Out in the field, if we make those mistakes, we can hurt somebody. So in here, I build a real, high-stress environment."
And there will be plenty of stress and chaos, since that's really what sometimes saving a life is like in the real world, Candelaria said. Students will not only be working on mannequins with "organs" that can be randomly stopped or started with the press of a button on an instructor's iPad, but Candelaria will have "extras" playing the roles of friends and loved ones.
Yelling, screaming and failing organs will be a part of the mix as students learn how to save people in less than ideal environments.
Classrooms will also be equipped with TVs and cameras that will allow one group of students to observe another group of students doing their training. The cameras and TVs will also be used for playback to teach what went right and what went wrong in practice scenarios.
"Now what we're doing is we're building classrooms that will support that simulation. Before, it was just 'imagine this kid is here. Imagine this is happening'. This is where we're going in education, and that's what (these rooms) represent," Candelaria said.
The redesign and the new equipment was made possible through a combination of community partnerships with the Los Alamos Medical Center, the LAFD and other organizations.
Funding sources included UNM-LA facility fees, state general obligation bonds and the federal "Sun Path Grant" a program that funds innovative college programs that lead to skilled jobs in healthcare.  
Students will also be working with real ambulances and helicopters, also courtesy of the fire department and LAMC.
"Our students feel like they are emergency workers," Candelaria said. "The teachers that are teaching them are current professionals."
Those professionals include LAFD EMS Chief Ben Stone, LAFD EMS Education Coordinator Donna McHenry, LAFD Battalion Chief Steve Dawald, LAFD Firefighter Aaron McNiff and LAFD Capt. John Snyder.
When students graduate from the program, they receive a certification that qualifies them for national certification that can lead to be licensed as an EMT.
During the last decade, fire departments and EMS services all over New Mexico have been undergoing fundamental changes as new technologies, medicines and techniques are introduced.
In Los Alamos County, while it's still possible to join the fire department and the EMS service right out of high school, professional advancement is now based on earning degrees.
For example, a fire battalion chief has to have an associate's degree, a deputy chief has to have a bachelor's degree and a fire chief has to have a master's degree.
Candelaria, LAFD Chief Troy Hughes and the UNM-LA administration noted this, and they came together in 2012 to see how they could accommodate firefighters and EMS workers in the region.