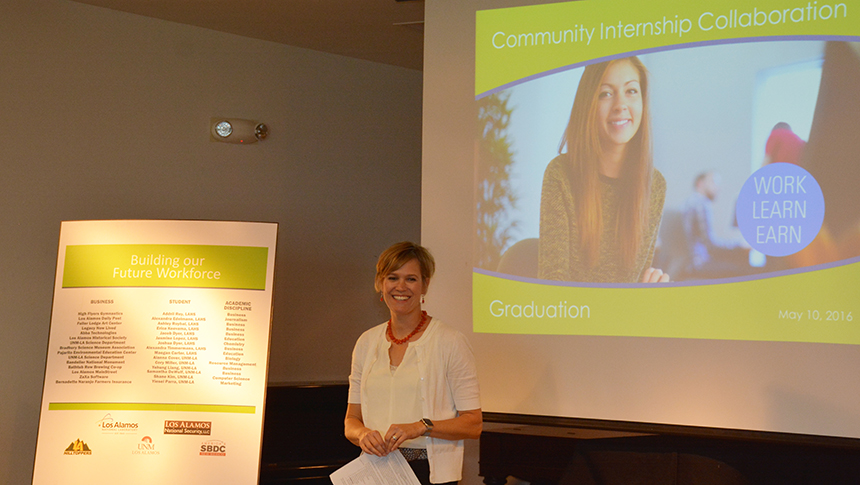 Fifteen Interns Graduate
May 10, 2016 - Nancy Coombs
CIC Interns Graduate
The Community Internship Collaboration (CIC), a new workforce development program for UNM-Los Alamos undergraduate students and Los Alamos High School juniors and seniors, held its second graduation Tuesday, May 10 at UNM-Los Alamos.
 The event was attended by the interns, their mentors, representatives from the supporting organizations, and members of the community. Each intern gave a short presentation on his or her internship experience.
 Students are paid by the program for up to 60 hours throughout the 15-week session. They also attend a series of classes at UNM-LA for which they receive academic credit.
 The Community Internship Collaboration is a joint partnership of the Los Alamos National Laboratory, Los Alamos National Security, LLC, UNM-Los Alamos, Los Alamos High School (LAHS), and the Small Business Development Center. The collaboration's objectives are to give students learning opportunities in business settings, while also providing local businesses with interns eager to contribute to the success of their business at no cost to them. The program is made possible by a financial investment from Los Alamos National Security, LLC.
 For the second session, 21 students applied for positions ranging from marketing to software development. Of those, 15 matches were made.
Maegan Carter, Early Childhood Curriculum Developer, Pajarito Environmental Education Center
Alanna Cover, Laboratory Assistant, UNM-LA Science Department
Samantha DeWulf, Marketing Intern, Los Alamos MainStreet
Jacob Dyer, High Tech Sales & Service Intern, Abba Technologies
Joshua Dyer, Laboratory Assistant, UNM-LA Science Department
Alexandra Edelmann, Sports Reporter, Los Alamos Daily Post
Erica Keevama, Special Programs Intern, Legacy Now Lived
Shane Kim, Research & Development Intern, ZaXa Software
Yuheng Liang, Business Marketing Intern, Bathtub Row Brewing Coop
Jasmine Lopez, Education Assistant, Los Alamos Historical Society
Cory Miller, Resource Management Intern, Bandelier National Monument
Yiesel Parra, Marketing Intern, Bernadette Naranjo Farmers Insurance
Addrii Roy, Business Development Intern, High Flyers Gymnastics
Ashley Roybal, Art Gallery Intern, Fuller Lodge Art Center
Alexandra Timmermans, Marketing Intern, Bradbury Science Museum Association