2016 Commencement Convocation on Thursday, May 12
May 10, 2016 - Graduation 2016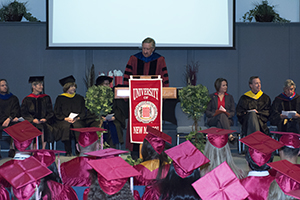 Los Alamos, NM, May 10, 2016:  The University of New Mexico – Los Alamos will host its commencement ceremony Thursday, May 12 to recognize students earning degrees.
Approximately 100 students completed a recognized level of study this spring. Fifty-eight earned Associate of Arts, Associate of Science or Associate of Applied Science degrees at UNM-Los Alamos. In addition, 11 students completed Doctorate, Master's, or Bachelor's Degrees with UNM Extended Learning. Through the Adult Basic Education Program, 32 students earned their High School Equivalency, formerly known as the GED.
Dr. Terry C. Wallace, Jr. will deliver the Convocation Address. Wallace, Principal Associate Director for Global Security at Los Alamos National Laboratory, was raised in Los Alamos and returned to work at LANL in 2003. Wallace holds Ph.D. and M.S. degrees in geophysics from California Institute of Technology and B.S. degrees in geophysics and mathematics from New Mexico Institute of Mining and Technology.
Jemima Spill (Associate of Arts, Liberal Arts) and Craig. T. One Feather (Associate of Applied Science, Robotics) will also speak, on behalf of students receiving associate degrees and certificates.
The public is invited to attend the commencement ceremony at 6 p.m. Thursday at the First Baptist Church, 2200 Diamond Drive, as well as the reception following the ceremony.
For further information about UNM-Los Alamos, visit losalamos.unm.edu or call 505-662-5919.