Pat Soran Selected as New UNM-LA Board Member
April 5, 2016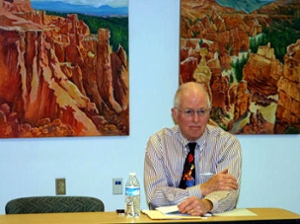 Los Alamos, NM, April 4, 2016:  
Longtime Los Alamos resident and community leader Patrick Soran was chosen in a unanimous vote as the newest member of the University of New Mexico-Los Alamos Advisory Board at a meeting of the UNM-LA Board. He took his seat at the table, but cannot vote until he is sworn in at a future meeting. Soran replaces Michael DiRosa who will be away from Los Alamos for two years and cannot fulfill his term. 
Five people presented their credentials and ideas to the UNM-LA Advisory Board in hopes of joining the Board. They were Norman Delamater, Ed Birnbaum, Patrick Soran, Andrew Hall and James Robinson. In announcing the selection of Soran,UNM-LA Advisory Board President Steve Boerigter called the slate of candidates 'absolutely fantastic' and reminded the remaining four that three seats will be available on the UNM-LA in January. He urged them to run for election to the Board at that time.
Photo by Bonnie Gordon, Los Alamos Daily Post