UNM-LA Staff Spotlight
February 5, 2015
UNM-LA Staffer Recognized For Going The Extra Mile For Others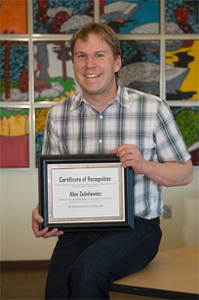 LOS ALAMOS, NM, February 5, 2015—UNM-LA Special Events Coordinator, Alex Zubelewicz was recognized with a Community Asset Award as part of the Los Alamos Commerce and Development Corporations (LACDC) Assets in Action Program. Zubelewicz was recognized at the Community Asset Awards Ceremony in late January for his dedication and customer service he provided at UNM-LA.
Kristine Coblentz from the Los Alamos Juvenile Justice Advisory Board (JJAB), nominated Zubelewicz because of the customer service she received while organizing a JJAB conference that was being held on the UNM-LA campus.
As Special Events Coordinator at UNM-LA, Zubelewicz is responsible for arranging meeting spaces according to a customers needs while providing any audiovisual and computer technical support they may require.
Koblentz praised Zubelewicz by saying, Alex is kind, responsive, meticulous, conscientious, thoughtful and easy to work with. I was impressed with his attention to detail and helpful nature.
The space and technical requirements for the JJAB conference were quite specific Koblentz said. When she submitted the requirements to Zubelewicz, he said, No problem, we can offer all of this, I enjoy it, its my job.
Zubelewicz's dedication and hard work do not end with his responsibilities at UNM-LA. He also volunteers his time off the job to serve the Los Alamos community as well as others across the country. In the past year, Zubelewicz has traveled to Utah, California, and Hawaii to participate in volunteer trail rehabilitation through Wilderness Volunteers. He has two other volunteer trips scheduled for later in the year to Oregon and New York. I love the outdoors and I never miss an opportunity to help others, Zubelewicz said.
An alumnus of UNM-LA and the Anderson School of Business Management at UNM, Zubelewiczs is also participating in the Leadership Los Alamos class of 2015.