Intro to Entrepreneurship Pitch Day
May 13, 2014
UNM-LA Intro to Entrepreneurship Students Pitched Their Business Ideas to Panel of Local Experts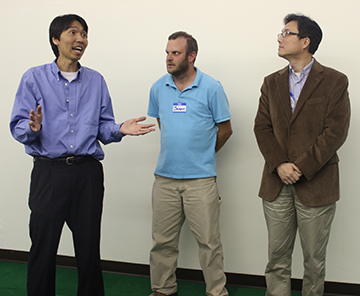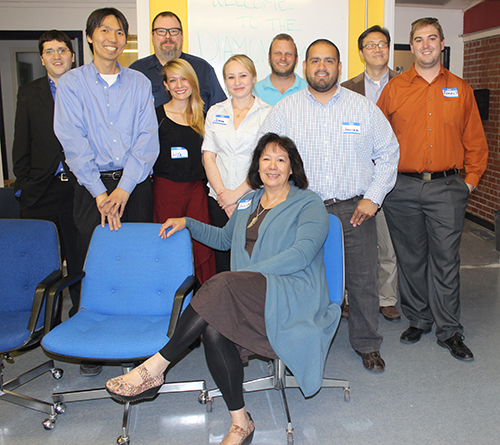 (Above top) UNM-LA instructor Nicholas Seet, left, with Jason Cox and Gary Xie, the two students who presented the winning business idea at pitch day. Photo by Mandy Marksteiner
(Above bottom) Students from Nicholas Seet's Intro to Entrepreneurship Class at UNM-LA who presented business ideas during a pitch day last week. Photo by Mandy Marksteiner
By Mandy Marksteiner
The audience quiets, the lights dim, the projector whirs, and the clock starts. You have 10-minutes, before a panel of experts and an audience from throughout the community, to tell everyone your team's great business idea - no notes, no reading, just talking from the heart. There is 10-minutes of questions after. Ready? Go!
On May 1, UNM-Los Alamos' Intro to Entrepreneurship class culminated in a Pitch Day, where four teams of students presented their business ideas and startup funding requests to a panel of judges. The event was held at the Diamond Mix Co-working space in the Pueblo Complex.
Each team gave a ten-minute presentation followed by 5-minutes of questions from the judges and 5 more from the audience. It was one of the many ways that instructor Nicholas Seet used his class to simulate the experience of starting a new business. "This is exactly what a potential funder would expect to hear when you are looking for money," Seet says.
Judges included Dr. Cedric Page, the branch director of UNM-LA; Rohan Loveland, an entrepreneur whose company Dynofit just received a $250,000 grant; Duncan McBranch, who spurs on entrepreneurs from LANL through his job as CTO; Dr. Cindy Rooney, the dean of instruction at UNM-LA; Mike Ham, who has started two companies; and Katy Korkos, the manager at the Chamber of Commerce.
Also in attendance were representatives from New Mexico Connect, New Mexico Regional Development Corporation, Los Alamos County Council, and the local business community. Like an episode of Shark Tank, or a real meeting with a potential investor, each team had ten minutes to make the case for why their company should receive funding. After the presentations, each team was ranked and one team was declared the winner.
The winning team was Urobus, presented by Jason Cox, and Gary Xie. Their idea was to design a USB charging cable that can be strung together like Christmas lights, making it possible to charge many devices at the same time using one outlet, a common need of busy travelers or the gadget-ridden parent.
Urobus (pronounced like euro bus) has already filed a patent and plans to serve the entire market of mobile phone users. Their vision is that all USB cables will have this feature.
Isaac Schillings and Lowell Savage presented their company, Alert Network Appliance (ANA). ANA automatically posts alerts (such as a chemical spill in a facility or a shooter on a campus) to any webpage that people visit while on the premises. Currently, alert systems exist in setting like hospitals, universities, and military facilities, but they require you to opt in to the system to receive the alerts. With ANA, the alerts will just happen.
Javier Gonzalez and Julia Takahashi presented Dyxtal. Dyxtal produces a technology that makes it easier to grow protein crystals using the dialysis method. Currently labs and pharmaceutical companies that want to grow crystal proteins use a vapor diffusion method, but that method requires the use of water, which limits the types of proteins that can be reproduced. Dyxtal's product is more versatile because it does not require water. Dyxtal makes it possible to crystallize more types of proteins, opening up more research possibilities.
Lisa Stearns, Jennifer Trent and Andrew Ortega presented MAD House. MAD House (MAD is an acronym for music, art, and dance) plans to create and promote events so that people will not need to leave the hill in search of entertainment. Their target market includes young adults ages of 21 to 35. Their goal is to offer six summer events, two per month. They want to survey Los Alamos residents in order to ensure success.
Even though this event was a simulated pitch session, each team prepared their presentations as if it were the real thing. The ideas that emerged from this class all have the potential to blossom into real companies.
"I thought that these were awesome pitches," said Katy Korkos, of LACDC, who hears business ideas all the time. "Considering this was student work, these were very credible presentations."
"They truly did an excellent job and I enjoyed listening very much," said August Swanson, owner of Darkling X. "I would love to have a vibrant startup ecosystem here in Los Alamos and [Seet's] class and influence in the community seem to be getting the ball rolling!"
Seet is continuing to encourage the local community by building an online virtual incubator for training and vetting up-and-coming entrepreneurs and matching them with the teams, mentors, and sources that fund new business ideas.
His virtual incubator, www.sivi.com, gives entrepreneurs the tools they need to succeed, like specific steps and resources to guide your startup, real time challenges that measure your entrepreneurial attitude awareness and aptitude, and rewards such as start-up tools, team and mentor connections and opportunities to connect with investors. Students in the UNM-LA class tested Seet's new model, and in the upcoming months several communities will use Seet's virtual incubator to develop upcoming businesses in their local area.