Glyphs by Kathamann
The library is proud to showcase the art work of UNM-LA students and invited artists both regionally and nationally.  Exhibits may be viewed during the library's normal hours of operation.
 Below are two samples of the works from the exhibit. Artist's Statement
---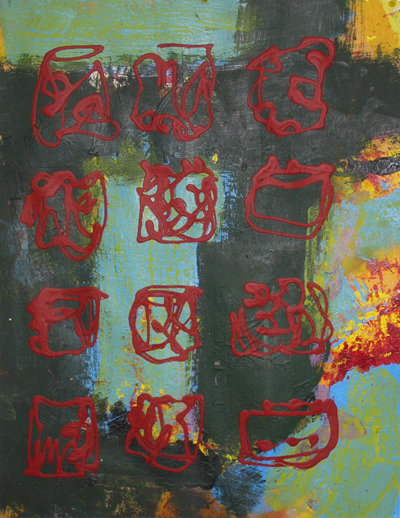 "Atitlan"
28" x 24"
Acrylic with latex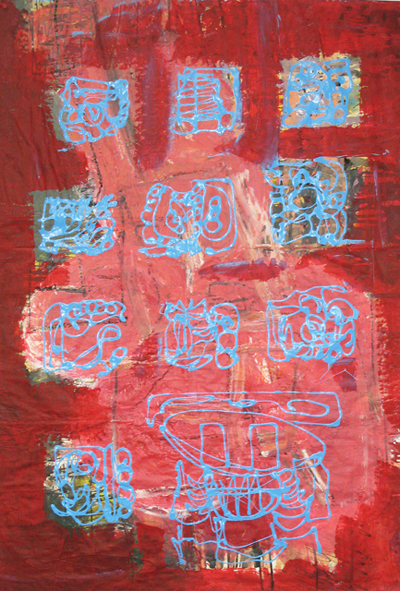 "Tikal"
46' x 32"
Acrylic with latex
---
Artist's Statement
The Exhibit
"Glyphs" is an exhibition of works on paper.  The artist uses the glyph motif as an abstracted device over multiple layer and colored, celebratory fields.  A squirt bottle was used to apply the colored latex.  "I tried to capture some of the energy of Mayan hieroglyphics." 
"The exquisite glyphs of Central American civilizations overwhlemed me during a recent tour.  I like how matter was transformed into a system of communication and archival record.  My hands were greedy for the voluminous forms in bas relief."
About the Artist
Kathamann has been involved in painting and sculpture in New Mexico's art community for thirty years, exhibiting in juried, group, and one-person shows.  She received her B.A. in Visual Arts, cum laude, at the College of Santa Fe.  She has also studied with Helen Frankenthaler, John Chamberlain, and Beverly Pepper at the Santa Fe Art Institute.  Jorge Fick, noted modern painter, was her painting mentor.  She is also a retired Peace Corps Volunteer/Afghanistan and registered nurse.
Kathamann has been published in Waving: Not Drowing; Sage Trail; The Rag; Lunarosity; Beatlick News; When Red Becomes an Apple; The House Where Numbers Slept; Small Canyons II, III, IV, V, and VII Anthology; Chest, official publication of the American College of Chest Physicians; Echoes, issues 11 and 13; Malpais; The Enigmatist; Adobe Walls II, III, and IV; Generations; Fixed and Free; Santa Fe One Heart; Odes and Offerings; La Llarona; Elegant Rage; a Poetic Tribute to Woody Guthrie; On the Dark Path; An Anthology of Fairy Tale Poetry; and others.
Mishell Karma Gaia, a 1973 Karmann Ghia, became an art car by Kathamann and was inducted into the Houston Art Car Museum in 2007, after winning first place in Houston's Art Car Parade in 2002 and 2007.  Photos of Mishell have appeared in numerous publications including Raw Vision, the world's leading journal of outsider art, and The People's Paper of Beijing.  The Hollywood film, MacGruber, included a large red sculpture by Kathamann.
An online portfolio of her work can be found at http://internet.cybermesa.com/%7ekathamann/.
-The Artist
---
Disclaimer
As part of its mission, the UNM-Los Alamos Library provides exhibit space to the university community as well as the greater community.  The opinions and views expressed and represented in exhibits are not necessarily indicative of the views and/or values of UNM-Los Alamos or its employees.